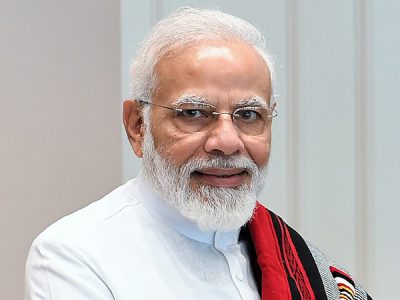 PM reiterates combined fight for climate change
Addressing a G-20 summit event "Safeguarding the Planet: The Circular Carbon Economy Approach", Prime Minister Narendra Modi said: "Climate change must be fought not in silos but in an integrated, comprehensive and holistic way." PM Modi added that India is not only meeting its Paris Agreement targets, but also exceeding them. For a cleaner environment, he pointed out, that over 80 million households were provided smoke free kitchens through the Ujjwala scheme, which is one of the largest clean energy drives globally. He also added that efforts to eliminate single use plastics, expansion of forest cover, increase in wildlife population, especially lions and tigers, and the plan to restore 26 million hectares of degraded land by 2030, are some of the ways his government is contributing to arrest climate change.
The effects of climate change are felt locally, but the cause is global. It is for this reason that the prime minister called for combined action. India has hardly been insulated from the impact. Last year, due to the impacts of climate change, there were floods in Assam, Bihar, Kerala and Mumbai, cyclones like Amphan and Nisarga, locust swarms and forest fires.
In December 2015, 196 countries signed the Paris Agreement on climate change. The agreement commits all countries to keep global warming within 2 degrees Celsius. Climate change is causing wild fires in the most unlikely places. Siberia, the great bogs or frozen wetlands, have been on fire this year as the Arctic has warmed. These blazes, known as "zombie fires", can burrow deep beneath the surface, such as the vast peatlands that ring the Arctic, and smoulder throughout the frigid winter.
Addressing the fourth Ministerial Meeting of the Coalition of Finance Ministers for Climate Action in October, via a video message, Secretary-General António Guterres urged greater leadership and vision. "We need speed, scale, and decisive leadership. I count on this coalition to rise to the challenge," he said (https://news.un.org/en/story/2020/10/1075152#:~:text=Addressing%20the%20fourth%20Ministerial%20Meeting,%2C%20scale%2C%20and%20decisive%20leadership.).
In 2019, online platform Global Forest Watch Fires (GFW Fires) counted over 4.5 million fires worldwide that were larger than one square kilometer. (https://www.dw.com/en/wildfires-climate-change-and-deforestation-increase-the-global-risk/a-51928388). The US is the world's second-largest emitter of carbon dioxide (after China), and a major contributor to global warming.
It is in this context that Joseph Biden's success in the US presidential elections is being celebrated by climate activists across the world. It may be recalled that in 2017, Donald Trump announced that the US would be pulling out of the Paris Agreement. Without the US's active cooperation and commitment, there will be little progress on climate change. Biden is already drafting orders (https://www.nytimes.com/2020/11/17/climate/biden-climate-change.html) to reduce planet-warming pollution and seeking nominees who will successfully incorporate climate policies into the fresh orders to be issued by the new dispensation there.
Interestingly, India's National Action Plan on Climate Change (NAPCC) was launched in 2008 by the Prime Minister's Council on Climate Change. At that time, India was one of the 10-odd countries to have a consolidated policy on climate change.
The plan aims at creating awareness among the public, different agencies of the government, scientists, industry and local communities on the threat posed by climate change and the steps to counter it. There are eight national missions that form the core of the NAPCC which represent multi-pronged, long-term and integrated strategies for achieving climate change goals. These are:
* National Solar Mission
* National Mission for Enhanced Energy Efficiency
* National Mission on Sustainable Habitat
* National Water Mission
* National Mission for Sustaining the Himalayan Ecosystem
* National Mission for A Green India
* National Mission for Sustainable Agriculture
* National Mission on Strategic Knowledge for Climate Change
A World Bank report (https://www.downtoearth.org.in/news/climate-change/rewind-2018-how-much-india-changed-with-climate-change-62609) released in 2018 said climate change could cost India 2.8 per cent of GDP, and lower living standards of nearly half of its population by 2050. It added that average annual temperatures are expected to rise by 1-2 per cent over three decades. India's noted environmentalist Madhav Gadgil who received the THE WEEK's Man of the Year 2019 award, has said that the world is changing rapidly due to global warming, and India is particularly susceptible to this with effects more far-reaching than most other countries. (https://www.theweek.in/news/india/2020/02/04/india-at-greater-risk-of-global-warming-than-rest-of-the-world-madhav-gadgil.html)
Climate change cannot be put on the back burner any further, and the fight has to be sustained uniformly around the world.
Like the pandemic, nations share a common but differentiated vulnerability and responsibility in dealing with climate change.