Honouring Covid Warriors & Outstanding Women Achievers 2021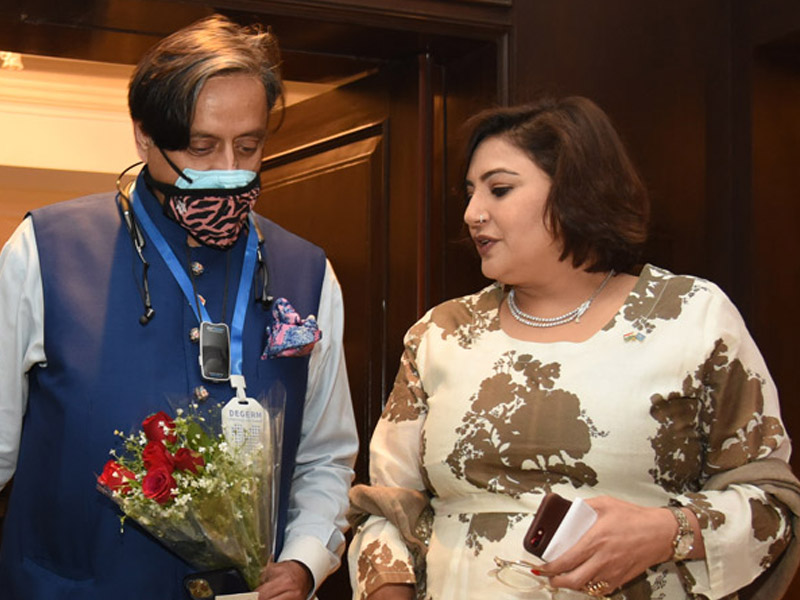 Public Diplomacy Forum in association with Tatsat Foundation, Narmadeshwari, Business World and GovernanceNow get together for celebration of 14th edition of the UN designated Annual International Women's Day Awards
Women are breaking shibboleths every day, fighting stereotypical notions and archaic norms. Even the Unites States' first woman Vice-President Kamala Harris would not have broken the glass ceiling if she hadn't battled her inner doubts and challenges that mixed race and polarized times imposed on her. Juggling jobs and home, women have been at the forefront of the Covid battle. Honouring such heroic women thus serves as an inspiration for a multitude of others who are waging their own battles every day.
On the occasion of the 14th Edition of the UN- designated International Women's Day on March 8, 2021, leading social advocacy Tatsat Foundation joined hands with Public Diplomacy Forum, grassroots' social organisation Narmadeshwari, media partners Business World and Governance Now to celebrate women's indomitable spirit and to honour outstanding women achievers.
The annual celebration of Stree Shakti is a much-anticipated calendar event in New Delhi. Held on March 8, 2021, at Hotel Claridges, the event was attended by Delhi's eminent personalities, UN delegates, diplomats, corporate heads, and celebrities.
To honour Covid warriors, and to support efforts at rebuilding India, Outstanding Women Achievers of 2020-'21 were felicitated, to celebrate real women heroes from real life. Women from diverse fields were chosen for the outstanding honour. These include Anjalee Kapoor, fashion designer; Asha Kamal Modi, jewellery designer; Jyotika Jhalani, fashion entrepreneur; Karishhma Lamba, motivational blogger; Neelima Dalmia Adhar, author; Neha Khanna, media personality; Riya Rastogi, legal professional; Saskia Rao, musician; Shilani Sadh, digital marketer and influencer; Shaunali Nanda, interior designer; Sutapa Basu, publisher and Dr. Sumi Gupta, CSR advisory.
Chief guest, parliamentarian Shri Shahshi Tharoor, tweeted: "Keynoted, as Chief Guest, the 14th#International Women's Day awards of the#Public Diplomacy Forum &# Narmadeshwari. Wonderful to recognise and honour so many distinguished achievers in different fields. There really is nothing a man can do better."
The other distinguished guests included honourable Rajya Sabha MP Padma Vibhushan, Odissi and Bharatnatyam dancer Dr Sonal Mansingh; Director General, ICCR, Shri Dinesh K Patnaik; environmentalist and Gandhian, Smt Tara Gandhi; entrepreneur and philanthropist Smt Aruna Oswal; and, Chairman of Business World, Dr Annurag Batra.
On the occasion, Ratan Kaul, Founder and President, Public Diplomacy Forum, said: "This celebration recognizes and praises the spirit and courage shown by women across fields who have excelled and achieved their aim by fighting the odds. Our platform is enthused to recognize achievers, keeping their spirit high by recognizing and awarding them. I feel that womanhood needs to be celebrated more than anything else in today's day and age. Celebrating and awarding proficient women through this platform is just another opportunity to appreciate the remarkable contribution of women to our society."
Director, Tatsat Foundation, Dr. Sumi Gupta said: "From Savitribai Phule to Rosa Parks, women have been at the forefront of social change throughout modern history. Some of the most important movements in every field have been led by women. They comprise about 50 per cent of the global workforce. Therefore, it is imperative that Women's Rights are protected and upheld by governments around the world for creating a more equitable society, without which the march of the civilization will be lopsided. The UN must press its member countries to declare Women's Rights as an inalienable right."
March 8th is observed as International Women's Day globally, designated by the United Nations, to celebrate the social, economic, cultural and political contribution of women achievers. The aim is to acknowledge women frontline workers and real heroes from real life, and this year, specially, the Covid-19 Women Warriors.
Chief guest, parliamentarian Shri Shahshi Tharoor, tweeted: "Keynoted, as Chief Guest, the 14th #International Women's Day awards of the #Public Diplomacy Forum & # Narmadeshwari. Wonderful to recognise and honour so many distinguished achievers in different fields. There really is nothing a man can do better."