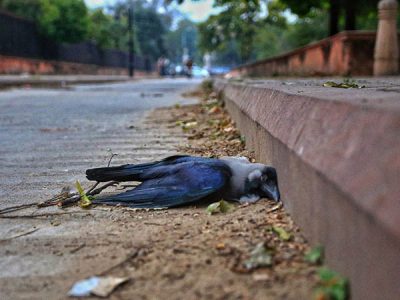 Govt issues guidelines for bird flu
Instances of deaths of birds due to bird flu in Kerala, Rajasthan, Madhya Pradesh, Haryana, Himachal Pradesh, Delhi, and Maharashtra have triggered a scare among people, and hatcheries have witnessed a 15-25 per cent impact on sales. Bird flu, or avian influenza, is a viral infection that is reported mostly in birds but may affect humans and other animals too. The most common strain of the virus that causes severe respiratory disease in birds is H5N1.
Though, the virus may be transmitted to humans through contact with infected bird faeces, nasal secretions, or secretions from the mouth or eyes, consuming properly cooked poultry or eggs doesn't transmit the flu.
According to a Down To Earth report, the Department of Science and Climate Change (MoEF&CC) under the Ministry of Environment, has ordered to maintain a strict vigil on the wintering habitats of migratory birds for any sign of a flu outbreak against the backdrop of rising deaths of birds. For personal care, the guidelines stated, personnel should wear rubber gloves and protective clothing that can be disposed of, including protective eyewear and face shield.
For bird care, the guidelines stated:
It should be ensured that wild birds are not harmed during trapping and collection of serum samples.
Preference should be given to the leg vein instead of the wing vein. Wing vein blood collection is reported to result in haemorrhage affecting normal flight, making them susceptible to predators.
All wild bird samples are valuable; hence collection of samples, packing and transport should be done in collaboration with trained animal husbandry / veterinary staff
Awareness should be spread that any sighting of a dead bird by volunteers, bird watchers, etc. should be reported to the nearest forest / animal husbandry office
To better monitor the migratory birds, a state-level committee has to be formed which will come with an action plan
According to the World Health Organization (WHO), H5N1 was first discovered in humans in 1997 and has a mortality rate of nearly 60 per cent among the infected. Since 1997, bird flu cases have been detected in 50 countries around the world. Bangladesh, China, Egypt, India, Indonesia, and Vietnam are considered to be endemic for the Asian HPAI H5NI virus in poultry. People in close contact with infected livestock or dead birds are at risk of the virus.
H5N1 occurs naturally in wild waterfowl, but it has the tendency to spread easily to domestic poultry. Common symptoms of H5N1 include cough, diarrhoea, respiratory difficulties, fever (over 100.4°F or 38°C), headache, muscle aches, runny nose, and sore throat.