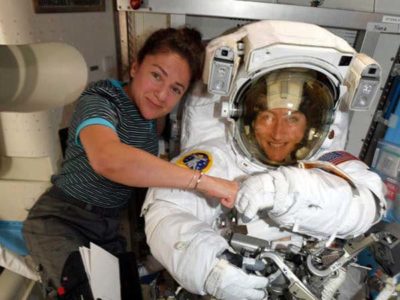 Breaking yet another barrier: First All-Women Spacewalk
NASA astronauts Christina Koch and Jessica Meir made history on October 18, 2019, with the world's first-ever all-women spacewalk. It was the first spacewalk for Meir, as she became the 15th woman overall and the 14th US woman to spacewalk, reports India Today. Marking the event as unprecedented inspiration for women and young girls across the globe, the mission was extraordinary, as it was two women, going into the darkness together, undertaking the spacewalk together for the first time—a la Amelia Earhart or Murie Curie moment.
NASA live streamed the spacewalk on YouTube. The event attracted attention from those who watched with anticipation, the two women crossing yet another barrier—making an inspiring moment for women across the globe.
Interestingly, in March this year, news was similarly abuzz at the prospect of the first all-female spacewalk, set to be carried out by Koch and another astronaut, Anne McClain.
However, shortly before the big day, NASA announced a change in plans, as it turned out, that the space agency only had one spacesuit torso available in size medium, the size that both Koch and McClain needed. So Koch wore the suit, and Nick Hague took McClain's place, adds Quartz.
In June 1983, NASA astronaut Sally Ride became the first US woman in space when she launched on the STS-7 mission of the space shuttle Challenger. She was the third woman in space, after Valentina Tereshkova and Soviet cosmonaut Svetlana Savitskaya, who flew on the Soyuz T-7 mission August 19, 1982, reports space.com.
Koch and Meir's mission included the replacement a faulty battery charger. Though the task was routine, they were well aware of the significance of their mission. As Meir said at a press conference, reported by Quartz: "What we're doing now shows all the work that went in for the decades prior, all the women that worked to get us where we are today."–