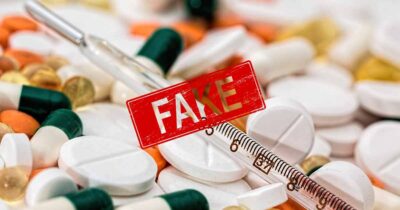 Are you consuming fake medicines? 5 Ways to Check for Fake Medicines
Counterfeit medicines in India are harming the most vulnerable populations. They were recently also found at a pediatric hospital in Kashmir and are suspected to have played a role in hundreds of infant deaths in the past few years.
The Wire reports that globally the manufacture and distribution of medicines is tainted by fake and substandard products. Not only might these drugs not work as expected, but some are even contributing to antimicrobial resistance. According to The Wire, in September 2013, 44 children in Paraguay were admitted to the hospital with breathing difficulties. It turned out the children had been given a locally made cough medicine. Investigators went to the factory and found import records for the dextromethorphan it contained. When they checked the World Health Organisation's database of substandard and falsified medical products, it was found that this came from the same batch that had caused the deaths in Pakistan.
Hundreds and thousands of cases are reported daily in newspapers of medical negligence and quack doctors. The fake medical industry is flourishing in India, and many quacks are making a killing in the heart of the capital, with outlets mushrooming in busy hubs like Pitampura, Patel Nagar and Karol Bagh, among others. A report in Medical Dialogues mentions that there are nearly 57 percent fake doctors in India.
According to the Delhi Medical Council, complaints against quacks in the capital have been rising over the last few years. Council records indicate that the number of complaints rose from 120 in 2015 to 310 in 2018.
In the light of such a thriving menace, it is important to know how one can protect oneself from fake doctors and fake medicines.
Many questions are raised. Should medicines be verified by the National Association of Boards of Pharmacies? Who should one alert first in case of any doubt doctor, pharmacist, police or any other authority? What are the things to do remember while purchasing medicines, other than checking the label, storage and shipping details? How to confirm the credentials of your health professional?
It's good to question everything. If you use the internet for research, then verify the information to make sure it is credible and reliable. Whenever you fill a legal prescription, learn about counterfeit drugs to protect yourself from the consequences of receiving these.
If you suffer side effects after treatment by a fake doctor, you can take legal action against them under the following sections:
Sec 29: Deals with documents, Sec 52: Describes "good faith"; Sec 90: Related to consent; Sec 176: Failure to inform the police whenever essential; Sec 269-271, Sec 273-273, Sec 274-276, Sec 304-A: Deals with death caused by a negligent act, Sec 306-309, Sec 312-314, Sec 315-316, Sec 319-322, Sec 336-338, Sec 340-342 and Sec 491: Related to breach of contract, Sec 499: Related to defamation.
Here are some ways in which you can ascertain the authenticity of any medicine:
1. Always check the seal
Always check the seal, especially when buying any bottled medicines. The seal should not be damaged or tampered with. Look for a crack or break in the sealing tape. If you feel it is broken or tampered with, do not buy it.
2. Check the packaging.
Another simple method that one can use is to look at the packaging. If it is the medicine you have purchased previously, check the font, spellings, and colour. Most often, one or all of these are wrong or different in a fake medicine.
3. Visual inspection of medicines
As stated by the WHO (World Health Organisation), the common physical attributes that need to be looked up in medicine tablets are:
Small pieces of tablets or excessive powder at the bottom of the medicine container;
• Cracks in the tablets;
• The appearance of crystals on the container walls or the medicine tablets;
• Softening or hardening of the medicines;
• Swelling, spots or discolouration of the tablets
4. Unexpected side-effects or allergies
The immediate impact that counterfeit drugs can have on any individual is an allergic reaction or unexpected side-effects.
The counterfeit drugs can be containing incorrect substances, improper dosage or hazardous substances. If you experience any unforeseen side-effects, stop consuming the medicine immediately and go check with your doctor.
5. Verify authenticity by sending SMS
The Drug Technical Advisory Board (DTAB) has come up with a technological solution to check the authenticity of medicines. For this, the consumers can Text SMS the unique "Authentication code" to 9901099010. After this you will receive an authentication message from the pharmaceutical manufacturer.